Purpose
The principle was introduced in 2010 together with FATCA;
The purpose is to prevent certain market players from circumventing US withholding tax when investing in derivative contracts or securities-lending/sale-purchase transactions that reference US equities as an underlying investment;
While Section 871(m) was originally directed at equity swaps that represent the equivalent of ownership of the underlying US equity, the regulations issued on 18 September 2015 and 19 January 2017 apply to a much wider range of instruments.
Key features
Entry into force was on 1 January 2017, but only for delta-one transactions (certain non-delta-one transactions to be in scope later);
With respect to section 871(m) enforcement, the IRS will take into account the extent to which the taxpayer or withholding agent made a good faith effort to comply with and enforce section 871(m);
On 4 August 2017, the Treasury Department and the IRS issued Notice 2017-42 indicating their intention to further extend the phase-in period for delta-one transactions to 2018 and to postpone the entry into force of the regulations for certain non-delta-one transactions to 1 January 2019 (phase-in year for these transactions is 2019);
The transactions affected include (among others) securities-lending and sale-repurchase transactions, specified Notional Principle Contracts ("NPCs") and Specified Equity-Linked Instruments ("ELIs");
A "dividend equivalent" (including any substitute dividend payment made on a securities-lending transaction or notional principal contract by reference to the payment of a dividend from sources within the United States) will be treated as a dividend from sources within the United States;
Dividend-equivalent payments may therefore be subject to US withholding tax, even if the parties involved in the transaction are non-US;
For example, for derivatives over US equities that provide for anything less than total return, the potential withholding depends on a complex set of scoping rules, including a "combination rule" under which separate transactions may need to be tested together to determine whether a dividend equivalent under Section 871(m) is present;
A new Qualified Derivatives Dealer (QDD) status introduces a new set of reporting and withholding guidelines tailored to non-US derivative dealers. This also affects Qualified Intermediaries ("QIs").
Example : Equity swap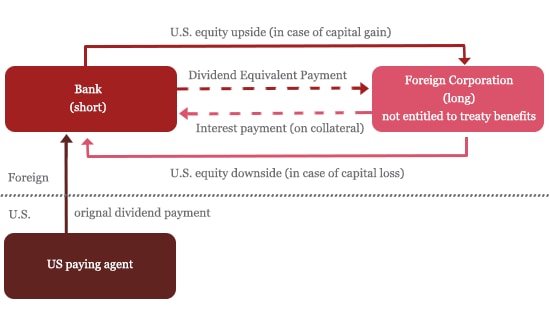 Operational requirements
Initial determination: address counterparty, product and transaction eligibility, calculate deltas (for simple contracts) or perform a "substantial equivalence test" (for complex contracts);
Ongoing monitoring: record-keeping, monitoring and client reporting;
Withholding: calculate the dividend equivalent and levy withholding tax based on treaty rates;
Reporting: report using Form 1042-S to the IRS and report to clients.
Affected Business Functions
Given the variety of operational requirements, almost all business functions are affected;
Front/middle office: e.g. client onboarding, reference data, products and instruments, book and trade inventory, order management and execution;
Tax operations: e.g. the ability to apply withholding on foreign-to-foreign transactions; tracking corporate actions and the impact on dividends; withholding and reporting process and underlying systems;
IT: e.g. enhance client onboarding, withholding and reporting platforms, capture additional reference data, track price variance and calculate deltas;
Corporate tax: e.g. provide technical expertise, assist in developing the regulatory and business requirements, monitor regulatory changes and the corresponding impact;
Compliance: e.g. support the development of detailed policies and procedures, develop a new controls framework.